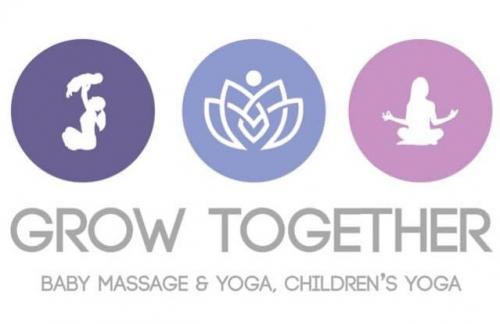 Established in 2019, Grow Together aims to offer friendly and welcoming classes for all parents to enjoy quality time with little ones in a supportive atmosphere. All classes are taught by a qualified Instructor – Siobhan Buchanan.
Baby Massage
Baby massage is the opportunity to bond in a special way with your baby that allows you to also learn so much about them. You will have the chance to learn the techniques of gentle strokes and caresses that will support common ailments but will also help them to feel loved, secure and calm. Baby massage is proven to help smooth the transition from the womb to the world, promoting relaxation and improving the quality of sleep – for both the baby and you! It's a way of becoming aware of your baby's body and their cues, whilst also enhancing your confidence and competence of dealing with baby and any issues.
Suitable for babies from 4 weeks old to crawling.
Baby Yoga
Baby Yoga classes unite parents and babies together using breathing techniques, gentle stretching and Yoga movements that help to support a baby's body and mind awareness and coordination. In a calm and relaxed atmosphere, parents are able to focus on a weekly mantra whilst moving with their babies through a series of Yoga movements that can offer practical tools for common ailments and also build confidence with your baby.
Suitable for babies from 6 weeks to fully mobile.
Toddler Yoga
A lovely blend of breathing techniques, calm and gentle stretching and yoga movements alongside a weekly story or theme makes Toddler Yoga classes the perfect choice for preschoolers. These classes offer the opportunity for toddlers to work alongside their grown up to build confidence in social settings as well as a healthy and calm attitude towards exercise. Suitable for toddlers from 18 months to pre-school age (4 years).
Suitable for little ones from 18 months-preschool age.
Classes run at the studios on Mondays and Tuesdays and can be booked online:
Website: https://www.growtogetherfamilies.com/
Email: info@growtogetherfamilies.com